ABOUT ASPEN PARAGLIDING, INC.
Aspen Paragliding is the premier paragliding school in the country and a full service dealer of paragliders and equipment.  We provide professional tandem instruction, certification, mountain & thermal soaring clinics, glider inspection & repair, accessory installation and international adventure travel excursions. Aspen Paragliding was established in 1990 and was one of first paragliding schools to get permission to fly from a  ski resort.

Our USHPA certified pilots have years of experience with flying, teaching, and competition. We  will make your introduction to paragliding is secure and enjoyable.

The Aspen Paragliding School is owned & operated by Alex Palmaz.  Our instructors are certified by the United States Hang Gliding & Paragliding Association.  Only the most advanced technical equipment is used for tandem flights and instruction.  Aspen Paragliding has use of local teaching sites in exclusive co-operation with the Aspen Skiing Company,  the U.S. Forest Service, the City Of Aspen and Pitkin County.
Introductory Tandem Flights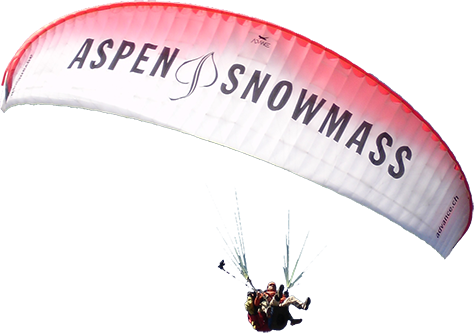 Paragliding is the simplest and purest form of aviation using a non-powered inflated wing to launch from hillsides and mountain slopes.  A paraglider is transportable in a backpack. The airfoil's performance allows one to soar with the freedom of a bird!   Using tandem paragliders, the pilot and passenger are seated in separate harnesses but attached together, front and back.  The glider is designed to accommodate two people without sacrificing performance or security.
During launch, the student passenger must run a short distance down a gentle slope (10-30 ft.) to assist the pilot. With this forward momentum, the glider gently lifts the pilot and passenger from the ground.  There is no "jumping off" of any mountain cliffs.  The entire experience takes approximately two hours.
Flights vary depending on the conditions of each day.  With favorable thermal conditions, the pilot may choose to maneuver the glider and utilize the air currents to gain several thousand feet above Aspen Mountain.  Achieving altitudes up to 18,000 feet is not uncommon!  Ages range from 10 to 75 (+ or -) years old.  Virtually anyone can fly! Cost Per Person $400 . Feel free to call us directly for more information on the process of flying.
Your tandem flight includes a ground school course in paragliding that covers all the information the FAA wants you to know about your flight.  To download your copy, click on
https://lp.constantcontactpages.com/su/3pRRjRc/AspenParagliding
Aspen Paragliding's professional tandem pilots are certified by the United States Hang Gliding & Paragliding Association, as Advanced Tandem Instructors.  This is the highest attainable rating. Our tandem pilots are the finest in the country and are committed to make your flying experience secure and unforgettable.